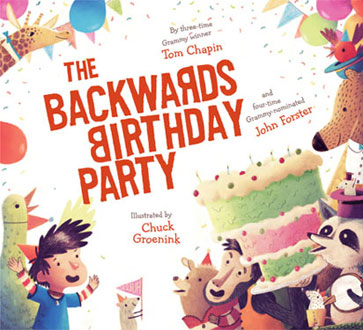 Listen to the song:



Buy the song:


The Backwards Birthday Party
By Tom Chapin and John Forster
Illustrated by: Chuck Groenink

For Ages: 4 - 8

Have a happy birthday—the backwards way! Full of fun and based on the hit song from Tom Chapin and John Forster, this is a celebratory birthday bash like no other.

Put your clothes on inside out, heat up the ice cream, and hang on to your party hats—because everything's out of whack at the backwards birthday party!

From beloved, three-time Grammy-winning singer-songwriter Tom Chapin, four-time Grammy-nominated singer-songwriter John Forster, and with stunning illustrations from Chuck Groenink comes the zaniest birthday party you'll ever attend.


---

"A topsy-turvy song from Chapin's 1994 children's recording, Zag Zig, becomes an equally zippy picture book.... Madcap silliness reigns at the backwards birthday party!/ the partyday birthwards back, and Groenink (Santa Clauses) keeps pace, creating a rowdy menagerie of animal partygoers (an ape puffs into the wrong end of a clarinet, a cat and goose share a pair of pants) who sing and dance the night away--or is it morning? The mixed-media illustrations hum with energy, movement, and color, capturing the spirit of this anything-goes celebration."

– Publishers Weekly, December 2014