Tom Chapin Videos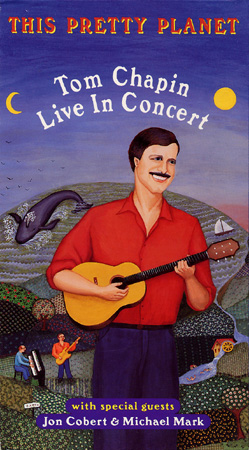 This Pretty Planet:
Tom Chapin Live In Concert (1992)
The magic of Tom's live performance is combined with spectacular nature footage that will delight children and parents alike. Now everyone can have a front row seat at a Tom Chapin concert -- any time they choose! This video features Tom and his band (Jon Cobert & Michael Mark) performing the following songs:
The Nick Of Time
Uh Oh, Accident
Alphabet Soup
Family Tree
Cousins
This Pretty Planet
Someone's Gonna Use It
The Wheel Of The Water
Good Garbage
Sing A Whale Song
Happy Earth Day
Shoveling
Together Tomorrow
VHS Format. Approximately 50 minutes. OUT OF PRINT.
---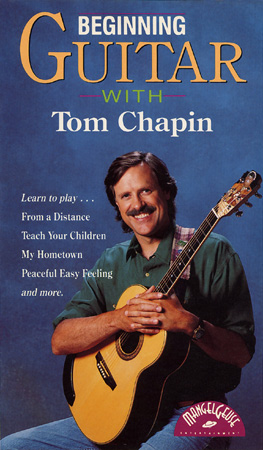 Beginning Guitar
with Tom Chapin (1992)
Seven lessons covering tuning, basic chords, chord progressions, strumming patterns, finger-picking and other guitar fundamentals.
Tom Chapin's Introduction
From A Distance
Peaceful, Easy Feeling
My Hometown (Bruce Springsteen song)
Teach Your Children
Bright Lights, Big City
All I Have To Do Is Dream
Fingerpicking
Please Note: This video is meant for beginners, but is not directed toward children.

VHS Format. Total Time 66 minutes. OUT OF PRINT.

---
Obtain ordering information
Return to Home Page

© 1997 - 2010 Sundance Music Inc.
100 Cedar Street, Suite # B-19, Dobbs Ferry, NY 10522 (914) 674-0247